Locally Sourced × Crafted with Love
The Cornish Cider Festival celebrates the best in local cider making.
Offering an extensive range of Cornish and regional ciders, as well as apple pressing, music, a cider maker's competition and lots more, all in the beautiful ancient town of Lostwithiel, situated at the entrance of Cornwall's Fowey valley.
Now in its glorious tenth year, the festival is a permanent fixture in the Southwest's food and drink calendar, enjoyed by hundreds of cider and music lovers every autumn. Here, we hope to tell you more about the festival, what it has to offer and why you should come long to this great little event.
What to expect on the day
The festival starts at 11am, when the bar will be open. If you are entering the amateur cider maker's competition, please bring your entries in early before the judging begins around 1pm. The cider press will also start around this time, where you will be able to press your own apples or ones purchased at the festival.
Sat 5th October 2019
11am ~ 11pm
Lostwithiel Community Centre Pleyber Christ Way
Lostwithiel PL22 0HA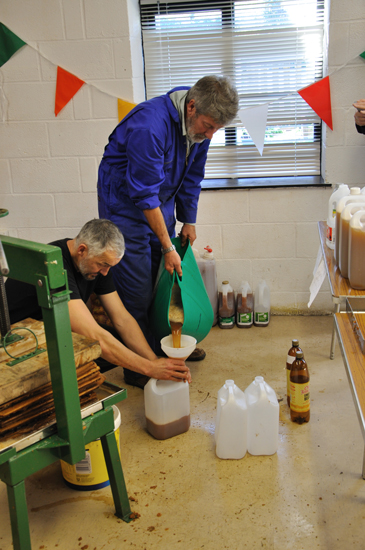 Essential festival details
The Cornish Cider Festival 2019 is held at the Lostwithiel Community Centre on Saturday 5 October from 11am to 10.30pm. The festival is free but your reusable plastic pint glass will cost £1.

Getting there by car
Entering Lostwithiel from the west (St Austell direction) on the A390.
Once you enter the town, you will drive through a set of traffic lights, after the lights the Community Centre is the third turning on the right and is sign posted.
Entering Lostwithiel from the east (Liskeard/Plymouth direction) on the A390.
You will pass the industrial estate entrance on your left, Community Centre is the next left hand turning.
Parking is limited at the Community Centre but you should be able to find on-street parking reasonably easily in the town. The best bet is to travel by train!
Getting there By train
The Community Centre is only about 4 minutes walk from Lostwithiel railway station, which is on the mainline from London to Penzance. There are regular trains from Plymouth and Truro stopping throughout the day; please check Great Western Railway website for details.
Places to stay
Lostwithiel has a good selection of B&Bs, hotels and pubs to choose from, including many places on Airbnb. Please check out Lostwithiel town website for details www.lostwithiel.org.uk/where-to-stay
Ciders at this years show include
The Cornish Cider Festival is once more sponsored by The Cornish Cider Company and we wish to thank Steve Skinner and his team for their continued support
And thanks to…
The Cornish Cider Festival would not exist without the support of the local community and volunteers helping out (paid in cider), particularly on the day itself. Special thanks goes to Andrew 'Dr of apples' Ormerod, whose help and advice has been invaluable over the years, Tim Hughes for general carpentry and tasting skills, John Pegg and Alfie Treloar for manning the press every year and Lee's wife Sian who generally gets things done. Not forgetting Dan for his most excellent guitar and apple related song book.
Get involved
If you would like to do a shift behind the bar, help set up or clear up afterwards in exchange for free entry and cider, please get in touch.
A big thank you to our local suppliers;
Richards & Sons
Palace Printers
Lostwithiel Community Centre
To be confirmed very soon!